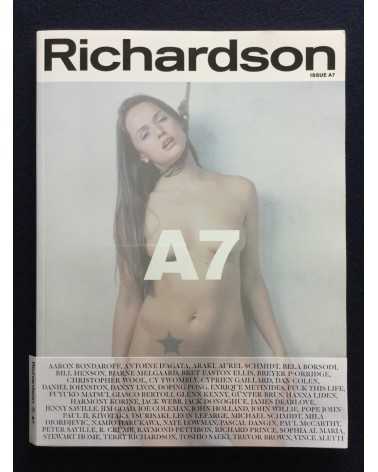 SOLD OUT
Terry Richardson - Issue A7 - 2013 - Published by Beatrix Felix - 160 pages - 22,5 x 30,4 cm

First edition. The Death Issue.

Featuring Tori Black photographed by Nobuyoshi Araki, and featuring work by, Aaron Bondaroff, Antoine D'Agata, Araki, Aurel Schmidt, Bela Borsodi, Bill Henson, Bjarne Melgaard, Bret Easton Ellis, Breyer P-Orridge, Christopher Wool, Cy Twombly, Cyprien Gaillard, Dan Colen, Daniel Johnston, Danny Lyon, Doping Pong, Enrique Metindes, Fuck This Life, Fuyuko Matsui, Giasco Bertoli, Glenn Kenny, Gunter Brus, Hanna Liden, Harmony Korine, Jack Webb, Jack Donoghue, James Dearlove, Jenny Saville, Jim Goad, Joe Coleman, John Holland, John Willie, Pope John Paul II, Kiyotaka Tsurisaki, Leon Lefarge, Michael Schmidt, Mila Djordjevic, Namio Harukawa, Nate Lowman, Pascal Dangin, Paul McCarthy, Peter Saville, Robert Crumb, Raymond Pettibon, Richard Prince, Sophia Al Maria, Stewart Home, Terry Richardson, Toshio Saeki, Trevor Brown, Vince Aletti...

Special edition with poster by Nobuyoshi Araki. Magazine. In good condition.