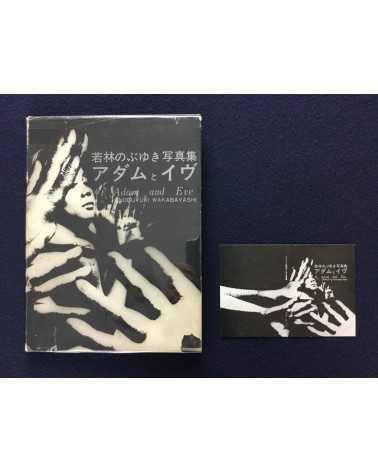 Nobuyuki Wakabayashi - Adam and Eve - 1970 - Published by Nitsutatsu Shuppankyoku - 100 pages - 18 x 24 cm

One of the very first edition of this book. There are some differences with the standard copy:

- Limited to 1000 copies but not numbered
- Front and back pastedown are white instead of black
- Photos are darker
- A photo is reversed
- The title of the book and the name of Nobuyuki Wakabayashi don't appear on the front cover
- The presentation of Nobuyuki Wakabayashi is at the beginning of the book, not at the end
- Flaps are differents
- ...
(Please look at the latest pictures for comparison)

Uncommon edition.

With a postcard. Signed. Hardcover photobook. In fair condition (the dust jacket is torn).