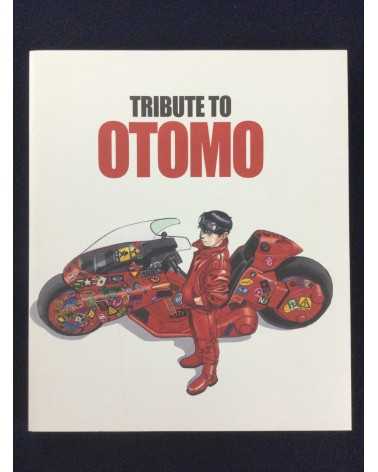 SOLD OUT
Katsuhiro Otomo - Tribute to Otomo - 2016 - Published by Galerie Glenat - 90 pages - 27 x 32 cm

Artists: Virginie Augustin, Bannister, Dominique Bertail, Matthieu Bonhomme, Aleksi Briclot, Francesco Cattani, Lorenzo Ceccotti, Merwan Chabane, Olivier Coipel, Luigi Critone, Simone D'Armini, Ludovic Debeurme, Benoît Feroumont, Manuele Fior, Juan Gimenez, Joël Jurion, Jean-Philippe Kalonji, Viktor Kalvachev, Nicolas Keramidas, Kim Jung Gi, Olivier Ledroit, Stéphane Levallois, Li-An, Liberatore, Julien Loïs, Vincent Mallié, Dilraj Mann, Stan Manoukian, Thierry Martin, Laureline Mattiussi, Hugues Micol, Timothée Montaigne, Nicolas Némiri, Vincent Perriot, Gloria Pizzilli, Victor Santos, Stan Sakaï, Otto Schmidt, Guillaume Singelin, Jirô Taniguchi, Lucio Villani, Vince, Pierre Alary, Boulet, François Boucq, Yannick Corboz, Adrien Demont, Asaf Hanuka, Julien Loïs, Giannis Milonogiannis, Boris Mirroir, Marion Mousse, Orhun, Sara Pichelli, Corentin Rouge.

First edition limited to 999 copies. Number 333/999. Softcover book. In good condition.