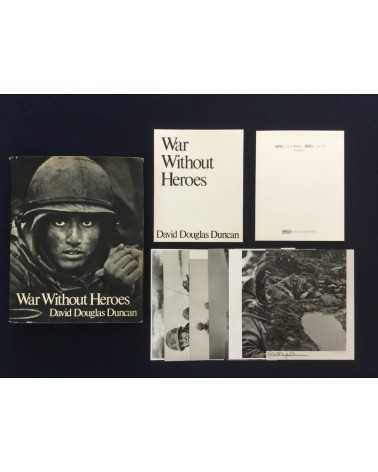 SOLD OUT
David Douglas Duncan - War Without Heroes - 1970 - Published by Harper - 252 pages - 26 x 32,4 cm
Contains a set of 6 prints (22,5 x 17,9 cm). 2 prints have on the back the mention:
"Please use this picture only for the publicity purpose in relation to Mr. David D. Duncan's "WAR WITHOUT HEROES" Exhibition to be held at Shinjuku Nikon Salon from 5th to 20th June 1971. The use of this picture is limited to ONE TIME and is permitted only for the publications to be circulated during the exhibition term. COPYRIGHT BY DAVID D. DUNCAN. NIPPON KOGAKU K.K."

First edition. Signed book. Hardcover photobook. In good condition.