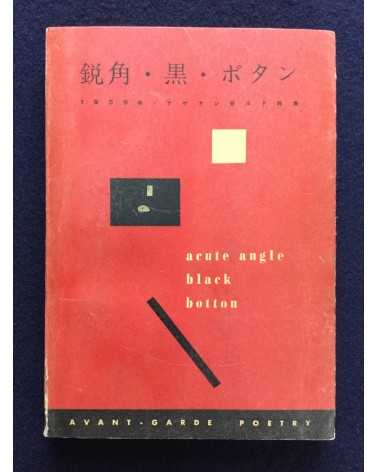 SOLD OUT
Avant-Garde Poetry Association - Acute angle, Black, Button - 1959 - Published by Avant-Garde Poetry Association - 232 pages (214 pages of japanese text, 18 pages of photos) - 12,7 x 18,1 cm

Members of Avant-Garde Poetry Association: Hitoshi Aizawa, Hidechika Egawa, Teruo Fujieda, Hitoshi Funaki, Toshio Hase, Yukio Hasebe, Takashi Hayami, Reiko Horiuchi, Mitsuko Inoue, Toshinobu Ibayashi, Shikibu Isokawa, Motoyuki Ito, Shuzo Iwamoto, Keisuke Jinbo, Yoko Jyo, Hiroshi Kagari, Takeshi Kaneshige, Mitsuo Katsui, Yoichi Kawamura, Haruko Kino, Takai Kimura, Katsue Kitasono, Etsushi Kiyohara, Yoshio Kodaira, Kazuo Kudo, Iri Kuroda, Tatsuya Kuroda, Akiko Marumoto, Kishio Masada, Akiyoshi Miyagishi, Hiroko Miyakawa, Fumio Minakami, Fumiko Mori, Tomoko Morihara, Kazuo Motoki, Asao Nishiyama, Yoshitami Okabe, Hisao Okubo, Kazuyuki Ono, Akito Osu, Takeshi Sato, Motonori Shibata, Masato Shimizu, Tatsuya Shimizu, Toshihiko Shimizu, Tatsuo Shimura, Kazuko Shiraishi, Toramatsu Sumadori, Yu Suwa, La Cupa Notte, Takashi Suzuki, Shohachiro Takahashi, Motonao Takasaki, Hiroshi Takiguchi, Isamu Suda, Setsuko Suji, Ryozen Torii, Shozo Torii, Toshio Ueda, Yutaka Umemura, Toyokiyo Uchida, Ryuichi Utunomiya, Ken Yamaguchi, Kanyu Yamamoto, Sanpei Yoshimatsu

First edition limited to 500 copies. Softcover book. In good condition.